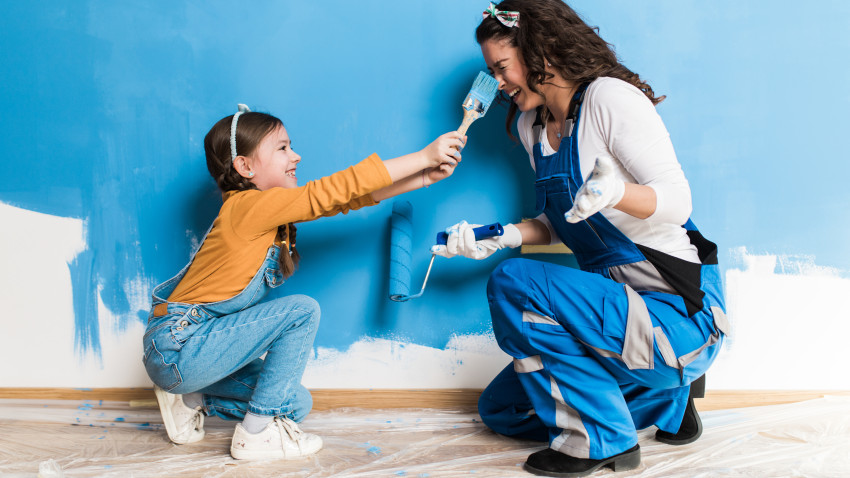 SPOR in the fresh air. SPOR washing machines receive A+ and A grades
Articol scris de: stg4p0licol
SPOR in the fresh air. SPOR washing machines receive A+ and A grades in the French VOC (Volatile Organic Compounds) – Eurofins test
SPOR, the Romanian paint that brings clean air into homes, without odor and without the risk of toxicity
All indoor SPOR washables received A+ and A grades following Eurofins – French VOC (Volatile Organic Compounds) testing
After launching the first washable paint in Romania in 1999, and over the years perfecting its products in terms of yield and efficiency, starting from 2023 all SPOR interior washables are classified in category A+ and A, according to French VOC provisions.
Testing according to French VOC in EUROFINS accredited laboratories in Denmark provides information on the quality of the air breathed in indoor spaces with the potential for inhalation toxicity, on a scale of classes ranging from A+ (very low emissions) to C (high emissions).
Unlike the European Directive and the national legislation that require the classification of washable interior paints, within the maximum limit of 30g/l VOC for the product ready for application without taking into account volatile and carcinogenic compounds emitted into the atmosphere until the film matures, the classification in these classes , A+ and A, indicate practically zero emissions of volatile organic compounds in indoor air (including species very dangerous by inhalation, such as formaldehyde and other toxic or carcinogenic compounds).
The latest data published by the World Health Organization (WHO) sound the alarm on polluted air and its harmful effects on the population. Things are no different in our country. A report published at the end of 2022 by the Center for sustainable policies Ecopolis and AerLive.ro, showed that air pollution with PM2.5 and PM10 (particles with a maximum diameter of 2.5 and 10 microns respectively, visible only under a microscope) is responsible for 2,869 deaths annually, only in Bucharest.
Often the air inside the home is at least twice as polluted, up to five times more polluted than the air outside, as recent research shows. In this case, the main sources are volatile organic compounds emitted by household products, but also by varnishes and interior paints. As we cannot give them up, a simple solution for clean air in our home is smart choices for the present, but especially for the future.
SPOR products are odorless and do not contain heavy metals or ammonia.
"One of our goals is to develop sustainably, and with the support of colleagues from the Research and Development Department, we have created safer products, friendly to people and the environment, which at the same time preserve their technical performance: coverage, washability, resistance and protection against mold. SPOR with silver ions A+ has antibacterial and antifungal effect; SPOR bathroom and kitchen A+ helps in spaces with high humidity and acts against mold; SPOR Tixo A+, gel paint, fluid after mixing, brings the immaculate white resistant for at least five years; SPOR Hypoallergenic A+ creates a safe space, without the fear of contact allergies, and SPOR Latex Mat A, ultra-washable, is easy to clean from traces of chalk, carioca, ketchup or cola and protects the walls from mold and microbes.

Moreover, SPOR water-based enamels meet the requirements of the TOY SAFE directive and do not contain heavy metals, so they are safe for painting wooden toys and children's furniture. br Now we spend even more time at home, the mix between going to work and Work from Home has taken root. It is equally true that the time spent indoors has always been considerable: at school, at work, in public places, etc. The way we relate to the quality of housing is different today. We have become more aware of the need for a safe environment in our homes to ensure a healthy climate and clean air. Poor air quality can be harmful to vulnerable groups such as children, the elderly and those with chronic illnesses. All this has motivated us to constantly improve the quality of paints, so that all our products are safe for health, friendly to people and the environment, while maintaining their performance: coverage, washability, resistance to cleaning, anti-microbial protection and anti-mold. We recently received A+ and A grades for all SPOR indoor washables in the test that measures the amount of volatile organic compounds in the air according to French VOC and TOY SAFE for Spor Aqua enamels. We can assure our consumers that SPOR products maintain their high quality and resistance over time, but without odor, volatile organic compounds or heavy metals"
says Elena Curelaru, Group Marketing Director of Policolor-Orgachim.
The range of SPOR washables and SPOR Aqua enamels is available in DIY stores in modern and traditional retail.